Wellspring's Mission is to build inclusive community that nurtures and heals,to work for social and environmental justice and peace,and to seek relevant Christian faith for the 21st Century.
Wellspring lives God's constant grace through transformation, affirmation, and discovery.
*     *     *     *     *     *     *     *    *     *     *     *     *     *     *     *     *
6th Sunday after Pentecost,
July 27, 2014
Rev. David Rocha, preaching 
Myra Flemister, worship leader
Our monthly bi-lingual worship (Spanish-English) with translation
Spare-Change offering for mission
All are welcome!
Gathering for worship at 10:30 a.m.
Church School classes for children
- including preschool –
 are provided during worship
Our Co-Covenant Pastors: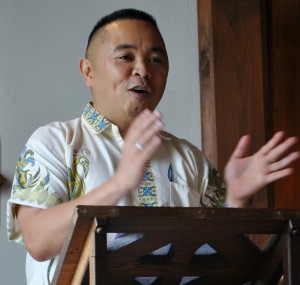 Rev. Dr. Al Fuertes
Mark Granfors-Hunt
"Faith from Afar" – Sermon June 2, 2013
http://youtu.be/Kz30r_2fhCo
We are an Open and Affirming 

Congregation 

of the United Church of Christ.
Come as you are!
Worship is at St. Johns Historic Episcopal Church at 10:30 A.M., every Sunday. Address ~ 5649 Mount Gilead Rd. Centreville, VA 20120
Wellspring phone
(703) 830-4194
Jill Satterfield, Secretary
WellspringUCC@gmail.com Send Mail to: P.O. Box 508 Centreville, VA 20122-0508