Wellspring's Mission is to build inclusive community that nurtures and heals,to work for social and environmental justice and peace,and to seek relevant Christian faith for the 21st Century.
Wellspring lives God's constant grace through transformation, affirmation, and discovery.
Sunday, May 19, 2013
Pentecost Sunday
Gathering at 10:45 a.m.
** Worship At 11:00 a.m. **
In Rooms 217 and 218 at St. John's Episcopal Church
Worship with

 Mark Granfors-Hunt preaching
Tree-planting follows worship
And Pot-Luck Lunch — an International Theme is suggested
Monthly Council meeting over lunch — all are welcome
Sunday School for children during worship
Baby nursery available
All are welcome!
Our Co-Covenant Pastors: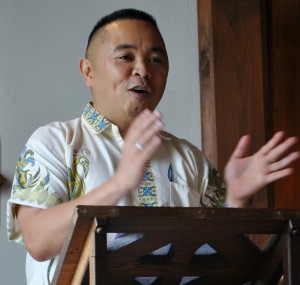 Rev. Dr. Al Fuertes
 Mark Granfors-Hunt
 

We are an Open and Affirming 

Congregation 

of the United Church of Christ.
Come as you are!
Worship is at St. Johns Historic Episcopal Church at 11:00 A.M., every Sunday.
Address ~ 5649 Mount Gilead Rd. Centreville, VA 20120

Wellspring phone
(703) 830-4194
Jill Satterfield, Secretary
Send Mail to: P.O. Box 508
Centreville, VA 20122-0508