Celebrate God
Wellspring United Church of Christ is a community committed to mission, social justice, intentional inclusivity, and decision making by conversational consensus.
Wellspring's vision, as stated in its covenant, is focused on being a nurturing, inclusive community, affirming the broad diversity in the human population, and embracing a mission to reach out to the larger community.
We gather for Sunday worship at 1030 a.m., in the historic St. Johns Episcopal Church, 5649 Mt. Gilead Rd., Centreville  20120. Come join us as we celebrate Christ's message for our world today.
Worship begins at 10:30 a.m.! We meet in rooms 217 and 218 at the east end of the building.
Join Wellspring at 5649 Mount Gilead Rd. Centreville, VA 20120.
For more information, call Wellspring at 703-830-4194.
Our Pastors
Reverend Al Fuertes is Wellspring's Covenant Pastor. Al works in the field of conflict transformation. specializing in community-based collective trauma healing as a vital component in peace and community-building. Al's interest is in the socio-cultural anthropological perspectives of the impact or effects of conflict and natural disasters on those affected and how people address the needs for both individual and collective healing through resiliency and other healing mechanisms.
Al does consulting work in different countries and travels intensively. He works with government, religious, military and local community leaders in countries that he visits. He connects with NGO workers and various sectors in places that he is invited to work. The title of his dissertation (Ph.D.) is, "Community-based Warviews, Resiliency and Healing Among the Internally Displaced Persons in Mindanao and the Karen Refugees on the Thai-Burmese border." He has also served as a pastor in the Philippines.
View Reverend Al Fuertes' sermon.
Worship Leader Myra Colleen Flemister
Myra is an experienced leader of Bible studies and women's retreats, and also blesses Wellspring's worship with her gifts as a song leader. When not leading worship, Myra works in sales and marketing, and has her own DJ business. She currently serves Wellspring as Church Moderator.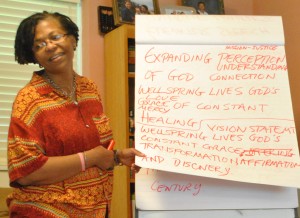 Music Director Maria Baylock
Maria Baylock serves Wellspring as Music Director and Worship Coordinator. She is an accomplished cellist and pianist. Currently she is Principal Cellist for the Loudoun Symphony and teaches cello.